Regular price
Sale price
£80.00 GBP
Unit price
per
Sale
Coming Soon
My first quarterly box kicks off with a pair of tantalising reds from two just discovered rising stars. Constantino Ramos is scaling the heights of Vinho Verde's Monção e Melgaço sub-region in both senses of the word. He learned his craft working for one of its best-known winemakers, Anselmo Mendes. Going his own way, he is carving out a niche for light, fresh reds of great nervosity, which are sourced from tiny, elevated old field blend parcels. In Alentejo, at the opposite end of the country, Ricardo Xarepe Silva is fashioning seamlessly textured, harmonious wines of great finesse, including a rare, single varietal Trincadeira which stole my heart. Luís Camacho Simões' magic touch with whites was a highlight of my week visiting with producers in Península de Setúbal,  just south of Lisbon. As far as I know, varietal Boal Barreiro –a local hidden gem – is  unique to Horácio Simões. The family estate's new 'Old School' white completes my virtuoso trio.
Sarah Ahmed
This first case includes one bottle of the following wines:
HORÁCIO SIMÕES OLD SCHOOL DOC PALMELA 2021
With pronounced minerality, this taut, Chablis-esque white reveals notes of iodine and chalk. With savoury wormwood and a subtle touch of high-toned, bruised apple, this artisanal, limited edition label is made in an 'old school' winery from 'old school' grapes, sourced from Horácio Simões' vineyards and local growers. 600 bottles made.
CONSTANTINO RAMOS ZAFIRA DOC MONÇÃO E MELGAÇO 2022
Who knew but, during 14 th to 16 th century, Monção's highly regarded red wines were shipped to England and regarded as a fine substitute for red Burgundy. This vinous tribute act is a joyous affair. Sourced from 50+-year-old vines which, rising to 400m, are Monção's highest, a blade of granitic acidity and the lightest pick of tannin brings delicious tension and twang to the sappy, tangy, bramble, raspberry and fresh cut apple fruit. Riffs of white pepper and pimento add spicy lift. This taste bud tickler is deliciously, dangerously drinkable! Constantino reckons it will drink well over several years (if you can resist it). Only 3,635 bottles made.
HERDADE DE LISBOA PAÇO DOS INFANTES TRINCADEIRA ALENTEJO 2021
The best plot of Trincadeira produces this smooth, lithe, inviting red, with signature varietal tobacco to nose and palate, red currant and berry and cherry fruit, with a tangy dash of pomegranate syrup and creamy, soft and savoury kid glove oak. Rioja fans walk this way.
View full details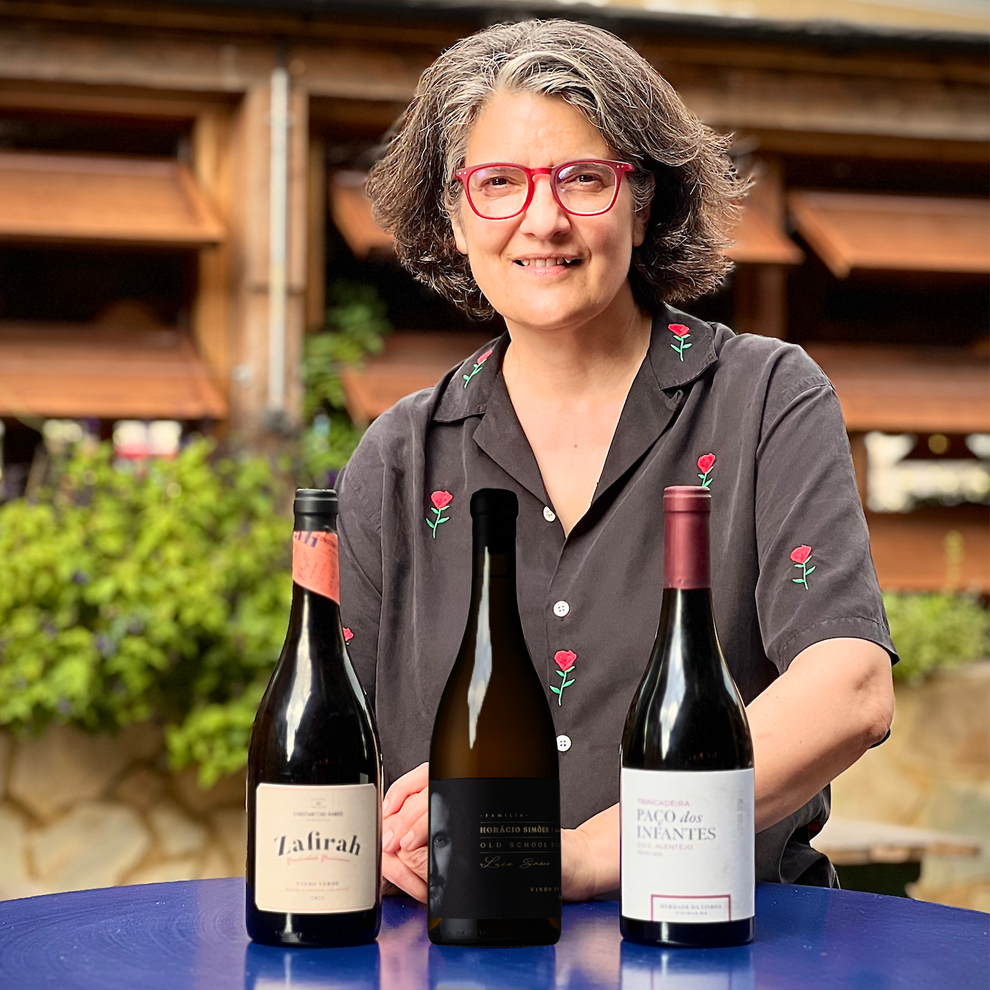 In this case:
This taste bud tickler is deliciously, dangerously drinkable!

Red | 2022 | Vinho Verde | 11.5%

Regular price

Sale price

£23.00 GBP

Unit price

per

Smooth, lithe, inviting red!

Red | 2021 | Alentejo | 14%

Regular price

Sale price

£32.25 GBP

Unit price

per

Limited edition label is made in an 'old school' winery from 'old school' grapes

White | 2021 | Península de Setúbal | 13%

Regular price

Sale price

£28.50 GBP

Unit price

per